Brief History -
Hello, I'm Timothy Rees and my brief history goes something like this. I was born in Sydney in 1980, and grew up on the NSW Central Coast. At age 11 I began learning to play trumpet and started composing not long after. I attended Central Coast Grammar School where I was awarded school colours for my contribution to the musical activities in the school. Subsequently I have studied composition with Colin Spiers, and trumpet with John Kellaway at The University of Newcastle Conservatorium of Music, and have been active as a musician playing with community and semi-professional groups such as the Central Coast Symphony Orchestra, Gosford Philharmonia, Wollongong Symphony Orchestra and Waratah Brass. I am also keeping busy teaching brass students and taking school ensembles both in Sydney and on the Central Coast.
2004 saw the premiere performances of a number of my Compositions including: Procession Through the Inner Night for solo Viola and Tape (2003); Vocalise for Soprano, Viola, Cello and Piano (2004); Three Images for Brass and Percussion for Orchestral Brass Ensemble (2004); and Fanfare and Suite for Trumpet and Tuba (2004); and the composition of the Sonata for Trombone and Piano (2004). I was awarded a New Work Grant for Emerging Artists from the Music Board of the Australia Council (the Australian Government arts funding and advisory body) to compose Metamorphoses for string orchestra for the Australian String Academy (ASA) Summer School 2005. Metamorphoses received two performances during the ASA summer school, on the 29th of January 2005 at St. Joseph's convent, Kincumber, and on the 5th of February 2005 at St. Andrews Cathedral, Sydney.
2005 saw the composition of a number of works, including: 'with a resounding spark...' for Trumpet and Piano, Zymergy One, Liquid Insurrection and Silhouette for Big Band, Shihaya for Oboe and Piano, The Golden Age for Trumpet and Percussion, and a number of smaller compositions and arrangements for students and student ensembles.
2006 has seen the composition of a Sonata for Trumpet and Piano, Festive Fanfare for Brass Ensemble, and Redgum Blues, Radius and Wamberal Riffs for beginner (primary) school band. I am currently composing a large cycle of Preludes and Fugues for Brass Quintet. Wow , did I say a brief History. I've been busy!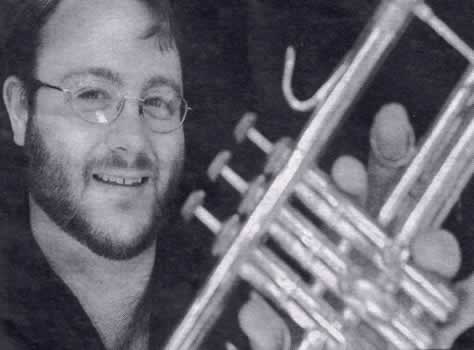 Teaching Philosophy -
I am here to help you to see if you've got what it takes or if you just want to see if you have any musical skill at all. I love opening up the joy of music to any one and everyone no matter what there age.
I do this using mainly formal guidelines from many well known tutoring books but I'm also here to guide my students through exams and any school band music they bring in. I love to also introduce my students to new music that they might think is "outside the square", but only if they're interested.
My Musical Interests -
Anything and everything mainly. I love Classical as my over view shows but I listen to everything.
Styles of Music Taught -
I teach what you want to learn, using books and other media so come along and see what happens!