Brief History -
Hey! My name is Katy Magee, and music has been the biggest part of my life since I can remember. I've played the piano for 13 years and the alto saxophone for 8. I've also been extensively involved in singing for chamber choirs but the saxophone is by far one of my greatest passions.
Since beginning to learn in year 5, I've travelled Australia to compete in National Band Championships with the Northern Youth Symphonic Wind Band coming first in 2015, and in year 11 I travelled to Venice and Istanbul to perform at the Anzac Centenary on the shores of Gallipoli.
Last year I completed my Higher School Certificate at Barker College where I received a Band 6 in both Extension Music and Music 2, and my Elective Musicology essay was selected for Encore. At Barker, I performed in the Symphonic Wind Ensemble and the Jazz Orchestra and was given the role of Music Vice Captain of the school in my final year.
Although I'm studying Law this year, I have loved learning all aspects of music theory and performance and am determined to maintain playing music as much as possible. It is a joy to pass this knowledge and passion on to other aspiring musicians and music lovers like myself.
Teaching Philosophy -
One of my main goals when teaching a student is to foster a desire for learning and a love for all music. Learning should be both enjoyable and stimulating so while I want my students to have fun, they should also be challenged to constantly improve. Music is an amazing tool for expression and can be an immensely effective coping mechanism to break away from the stress of work and school. I would love for my students to feel proud that they're continuously creating and reaching new goals and are able to implement what they learn in the classroom within many different environments and contexts.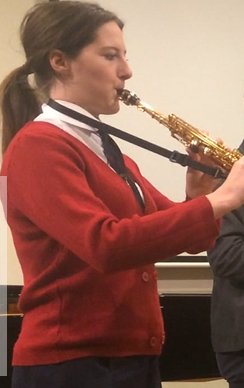 My Musical Interests -
I have an eclectic music taste and love many different genres from current commercialised artists like Sufjan Stevens to Romantic composers such as Chopin to the Jazz standards of stars like Thelonious Monk to everything Woodstock. I'm happy to help students work through music needed for school, community ensembles, exams, or purely for personal enjoyment.
Styles Of Music Taught -
Jazz and big band and anythimg else you'd like to try