Brief History -
Hi potential students! My name is Leo and I have completed a Bachelor of Music performance at the Sydney Conservatorium of Music and have ten years of teaching experience. Although I am trained classically, my music tastes are fairly broad across classical, jazz, and pop genres (I bought a drum kit last year and have been practicing madly!) My work this year has seen me playing on SBS TV and at the Australian Music Awards, touring with Angus and Julia Stone, Missy Higgins and the "War of the Worlds" stage production. I played at homebake and on radio national this year and have also backed Lior in the past. Most recently I played for Leo Sayer on the "Kerry Ann" Show. My students range in age from little 4 years olds to teenagers to professional adults, and in levels from beginner to advanced proficiency.
Teaching Philosophy -
My teaching philosophy is flexible depending on students' expectations, aptitudes and music tastes. My main drive is
to foster a love of music and to teach proper practice methods and the development of technique so that the ultimate goal of self direction can be achieved. Never at the expense though of having fun and enjoying the learning process!
Students will generally choose the pieces they want to play; from Bach to Coldplay to Gershwin while I require technical work (scales etc) to be completed. If one wants to do grades then I follow the A.M.E.B (Australian Music Examinations Board) syllabuses http:// www.ameb.nsw.edu.au/ which are twofold for piano; either traditional piano or piano for leisure. In my experience grades are often a good idea to provide structure and motivation to one's practice and a sense of achievement. I am not qualified to teach the Suzuki method yet receive many Suzuki students who lack essential music reading and theory skills. The above information applies to the methods I use to tutor for violin.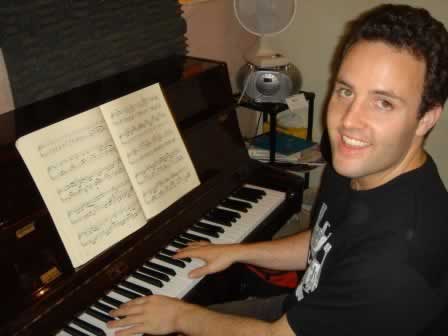 My Musical Interests -
Bach and Beethoven to The Beatles and Blink 182. Mozart to Meatloaf. Gershwin to Greenday. You get the idea!
Styles Of Music Taught -
As Above
If you have any further questions please feel free to call the Learning Lounge where you can speak to me. I hope to see you soon....