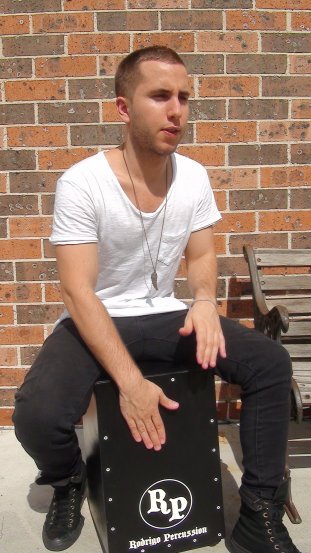 Brief History -
Hello, I'm Raph Strazz and I began playing drums at age 13. I started out by playing along to my favourite rock music and anything that was on the radio. I gained performance experience early on performing with my High School Jazz Band and at age 16 started playing professional gigs with my Dad, Guy Strazz.After successfully completing all A.M.E.B grades on drum kit, I began teaching from home and in 2008, became a drum tutor at The Central Coast Conservatorium. Since then, I have gained positions as a drum tutor at Big Music Australia, Bondi Beach Public School and Music Motive. I am also the author of the CCC drum kit curriculum and Co-writer of the internationally released production music track "Urban Desert" for Vitamin A/BMG. I am mainly self-taught, however I have had lessons from some of the best drummers and tutors in Australia including Milan Troha, Nic Cecire, Andy Evens, and Gordon Rytmeister.He has performed and recorded with many bands including; Mahogany, The Blacklist, The Jefferson, The Collective, The Julian Kuo Quintet, Central Coast Conservatorium Big Band and with many other musicians such as Steve Hunter, Luke Gallon, Rodric White, Ashley Turner, Andrew Oh, Guy Strazz, Lucas Strazz, Vlad Khusid, Virna Sanzone and Mark Da Costa.
I have performed at venues all across Australia including: The Sydney Opera House, Sydney Town Hall, The Royal Botanical Gardens, The Star Casino, Circular Quay Square, The Westin Hotel, The Australian Museum, Canberra State Library, The Royal Sydney Yacht Squadron, Lizottes, The Mean Fiddler Hotel, The InterContinental Hotel and many more.
Teaching Philosophy -
I teach students of all ages and levels of experience, covering a wide range of styles and genres. I utilises music programs, reading material, backing music and videos to inspire and assist students with achieving their goals.
My approach to teaching addresses technique and musicianship, whilst catering to each individual students interest, whether it be learning to read music, improvising, playing along to your favourite songs or any other area of focus.
My lessons are comprehensive and enjoyable for all ages and skill levels.

My Educational Philosophy -

I am lucky to have come from a very musical family. My mother is a classically trained pianist, my brother a composer and guitarist, and my father is guitar virtuoso Guy Strazz. I was influenced early on having been exposed to a lot of different music such as Ray Charles, James Brown, Harry Connick Jr., Led Zeppelin, Chick Corea, Eric Satie, Debussy, and also by my father and the musicians he's worked with such as Steve Hunter, Matt McMahn, David Jones and Andrew Gander. My musical influences and the musicians I have gained inspiration from are David Foster, Bryan-Michael Cox, The Neptune's, Christian Scott, Andrea Bocelli, Sting, Brian Mcknight Stevie Wonder and many others. My biggest drumming influences early on were Chad Smith, John Blackwell, Gerald Heyward, Mike Portnoy and my first drum tutor Milan Troha.
Since then I have been influenced by Dave Weckl, Aaron Spears, Teddy Campbell, Dave Elitch, Rex Hardy Jr. and many others.

My Musical Interests-
My musical interest is very broad. Some of my favourite bands at the moment are Tina Dico, Rachael Yamagata, Selah Sue, Lucie Silvas, James Morrison, Alicia Keys, Aloe Blacc, Mayer Hawthorne and John Mayer.
Styles Of Music Taught -
Pop, Rock, RnB, Fusion, Hip Hop, EDM, Jazz, Funk, Latin, Country and Blues.